Zoe Baker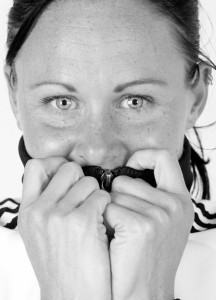 Zoe started swimming at the age of 8 in her hometown of Eckington, which is in North East Derbyshire, in the North of England. From the age of 9 years, Zoe swam under her first competitive swimming club' Eckington Swim Club' and competed successfully at county and regional levels. Zoe joined the City of Sheffield under coach Fred Furness in 1990 and it was from then she seriously trained and competed at the National level in Great Britain. Zoe also broke her first British Junior Record during that period. At 16 years she broke her first British senior record and made her first GB senior team at the European Sprint Championships in Finland. In 1994 Zoe joined the City of Leeds Swim Club under GB senior coach Terry Denison, and trained there until 1996.
In the English summer of 1996 (June) Zoe moved to Christchurch NZ to join Kim Swanwick, an English born coach and worked with Kim until 1999. After the World short course Championships in Hong Kong 1999 Zoe returned back to Christchurch and started coaching herself since Kim Swanwick had decided to take time out from coaching and concentrate more on the science side of swimming. Under a guide from Kim, Zoe began writing her own swim programmes and by applying what she had learned from Kim to her own swim and gym programmes. This left Zoe planning and coaching herself for the majority of the time while still training in Christchurch from 1999 onwards.
This was a huge turning point in Zoe's career as from the summer of 1999 Zoe broke her first European record on the 50m breaststroke and went onto to take her first international medal, a silver on the 50m breaststroke in Istanbul during the European Swimming Championships. Following that in December of the same year she became European short course champion which took place in Lisbon. In 2001 Zoe won her first world long course medal, a bronze in Fukioka Japan again in the 50m Breaststroke event.
2002 was Zoe's most successful year where she broke in total four World Records (three short courses and one long course) and won her first Commonwealth Gold medal in her home country held in Manchester England. Following that in 2003 Zoe took her 3rd World Bronze medal in Barcelona Spain.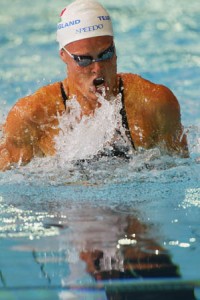 Zoe switched countries to swim under the flag of New Zealand after representing Great Britain for over a decade. Zoe made this decision in January 2005 to change countries with her debut for NZ at the World Long Course Championships in Montreal. Why the move? Zoe had made it clear to her former federation Great Britain after breaking her 4th world record in 2002, that she was not happy with the federations lack of support for her sprint training methods along with discriminating selection policies towards 50m swimmers. The lack of funding for her event after her gold medal at the Commonwealth Games 2002, made it virtually impossible for Zoe to remain on the GB team under the direction of NPD Bill Sweetenham.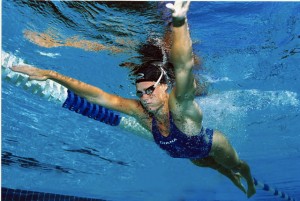 Zoe firmly believes a swimmer must be happy to swim fast, and individual differences in training approaches must be addressed.
"Individual flare and daring to be different separate good swimmers into great ones"
This was a hard decision since Zoe's roots and background are British and she represented New Zealand for a further five years.
---
Competitive Honours
WORLD CHAMPIONSHIPS
Long Course
2003
BRONZE 50m Breaststroke
2001
BRONZE 50m Breaststroke
2005
5th 50m Breaststroke
Short Course
2006
5th 50m Breaststroke
2002
BRONZE 50m Breaststroke
2002
12th 100m Breaststroke
2000
8th 50m Breaststroke
1999
7th 50m Breaststroke
EUROPEAN CHAMPIONSHIPS
Long Course
2000
SILVER 50m Breaststroke
1999
SILVER 50m Breaststroke
1999
11th 100m Breaststroke
1999
BRONZE 4x100m Medley Relay
Short Course
1999
GOLD 50m Breaststroke
COMMONWEALTH GAMES
Long Course
2006
4th 50m Breaststroke
2002
GOLD 50m Breaststroke
RECORDS
World Records
50m Breaststroke L.C.
30.57 -30/07/02
50m Breaststroke S.C.
30.31 -27/01/02
50m Breaststroke S.C.
30.51 -15/01/02
50m Breaststroke S.C.
30.51 -15/01/02
50m Breaststroke S.C.
30.53 -04/01/02
Commonwealth Records
50m Breaststroke L.C
30.57 -30/07/02
50m Breaststroke S.C.
30.31 -27/01/02
50m Breaststroke S.C.
30.51 -15/01/02
50m Breaststroke S.C.
30.53 -04/01/02
European Records
50m Breaststroke L.C.
30.57 -30/07/02
50m Breaststroke L.C.
31.03 -30/07/02
50m Breaststroke L.C.
31.04 -10/04/02
50m Breaststroke L.C.
30.31 -27/01/02
50m Breaststroke L.C.
30.51 -15/01/02
50m Breaststroke L.C.
30.53 -04/01/02
50m Breaststroke L.C.
30.61 -09/12/01
50m Breaststroke L.C.
30.78 -20/10/01
50m Breaststroke L.C.
30.97 -03/08/01
50m Breaststroke L.C.
31.23 -26/07/01
50m Breaststroke L.C.
31.43 -29/07/99
50m Breaststroke L.C.
31.54 -06/07/99
AWARDS
Yorkshire Swimmer of the Year 2002
New Zealand Swimmer of the Year 2005
Canterbury NZ Swimmer of the Year 2006
Winchester Coach of the Year 2019